How much our services cost
Most people don't really know the difference between "just a good haircut" and a great haircut. And there's little wonder why that's the case. The reason is because…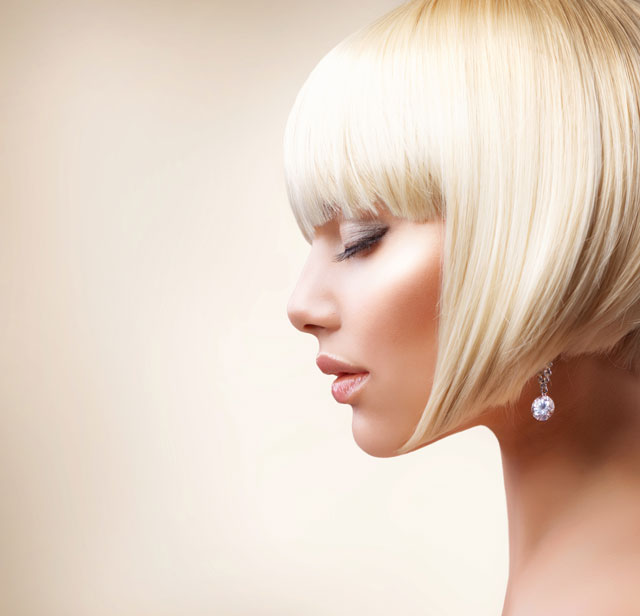 …nobody has ever explained it to them!
So, here goes…
There are two reasons most experts would agree on.
The cut itself must compliment your personality and face shape. For example: Remember Jennifer Aniston's cut? That was a great haircut because it complimented her specific facial characteristics. The cut would not have looked as good on Angelina Jolie.
A great haircut looks good even as it grows out. In other words, it should look great between services. Hair grows at a rate of 1/8" per week. Cutting the hair every 4-6 weeks maintains its shape and placement.
Typically, if hair is not at least "trimmed" every 8-10 weeks, it will begin to split at the ends and break. When this happens (and is left unattended), these ends will continue to split up the hair shaft, causing damage – damage that you cannot repair!
Another thing (that might not make sense to the average person) is cutting the hair actually makes it grow faster and healthier. So, don't make the mistake of letting your hair "grow out," thinking that you're making it healthier. Healthy hair is trimmed on a consistent basis.
So, why not let Salon Paragon help you find your perfect haircut? Now that you know what makes a great cut a great cut, pick up the phone and set up an appointment today!
Q: What's the difference between semi-permanent and permanent hair color?
The major difference is how long you want the color to last and how much of a change you actually want. If you're looking for something subtle, such as adding a layer of color or deepening your own natural hair color, a semi-permanent color is the best option for you.
Semi-permanent colors are designed to wash out after about 6 to 12 shampoos. The real benefit to them is that the color is temporary, so there is not a big change "commitment" on your part. And, just think, you won't have to deal with those pesky noticeable roots.
One thing to note is that semi-permanents actually darken the hair. They don't contain any ammonia or peroxide, so they can't ever lighten your hair. So keep in mind that if you're looking to go dramatically lighter, semi-permanents are not the best choice for you.

If you want a longer-lasting option, consider something called demi-permanent color. This lasts about twice as long as semi-permanent dye and has the same basic properties as semi-permanent color.
But, if you want that dramatic change, a permanent hair color is your best option. What do we mean by dramatic? Any time that you "lighten" your hair or make it more than a shade or two darker, that's dramatic. If you are looking to hide the grays, permanent color is the only way to go.
Permanent color does not wash out with shampooing. It is a blend of peroxide and ammonia that actually removes the color pigment from your hair and then deposits new color on top. When your hair grows in, the original color appears in the form of roots. And you will have to "re-touch" the roots every six weeks or so (depending on how fast your hair grows).

Q: What is a single-process color?
A single process is just the application of one color (or toner) to achieve an all-over color. You can still have some contrast depending on the color used or your existing hair color, but there is only one application – hence the term "single process."

Q: When and why are "foils" used?
Foils are used to introduce multiple colors to a client's hair. The foils allow the stylist to place color strategically in a hair design to achieve a certain look. Foils are also utilized when a stylist is trying to "highlight" the hair.

Here is our basic pricing guide. Pricing can change if more product or time is involved. All missed appointments will be charged.
Hairstyling
Prices
Womens Cut
$65.00+
Blowdry/Styling,

Iron Work Extra

$35.00

$15.00

Mens Cut
$35.00
Deva Cut
$85.00+
Relaxing/Smoothing Treatment
consultation
Hair Coloring  – Includes Haircut
Prices
Color Service
$130.00+
Color Balancing
$25.00+
Corrective Color
consultation
Partial Foil
$150.00+
Full Foil
$195.00+
Double Process
consultation
Creative Foiling Techniques/Balayage
consultation
Waxing and Tinting
Prices
Waxing – Brows
$15.00
Waxing – Lip
$15.00
Brow Tinting
$12.00